X-Nav Technologies Improves Dental Implant Surgery with X-MarkTM Virtual-Based Navigation Technology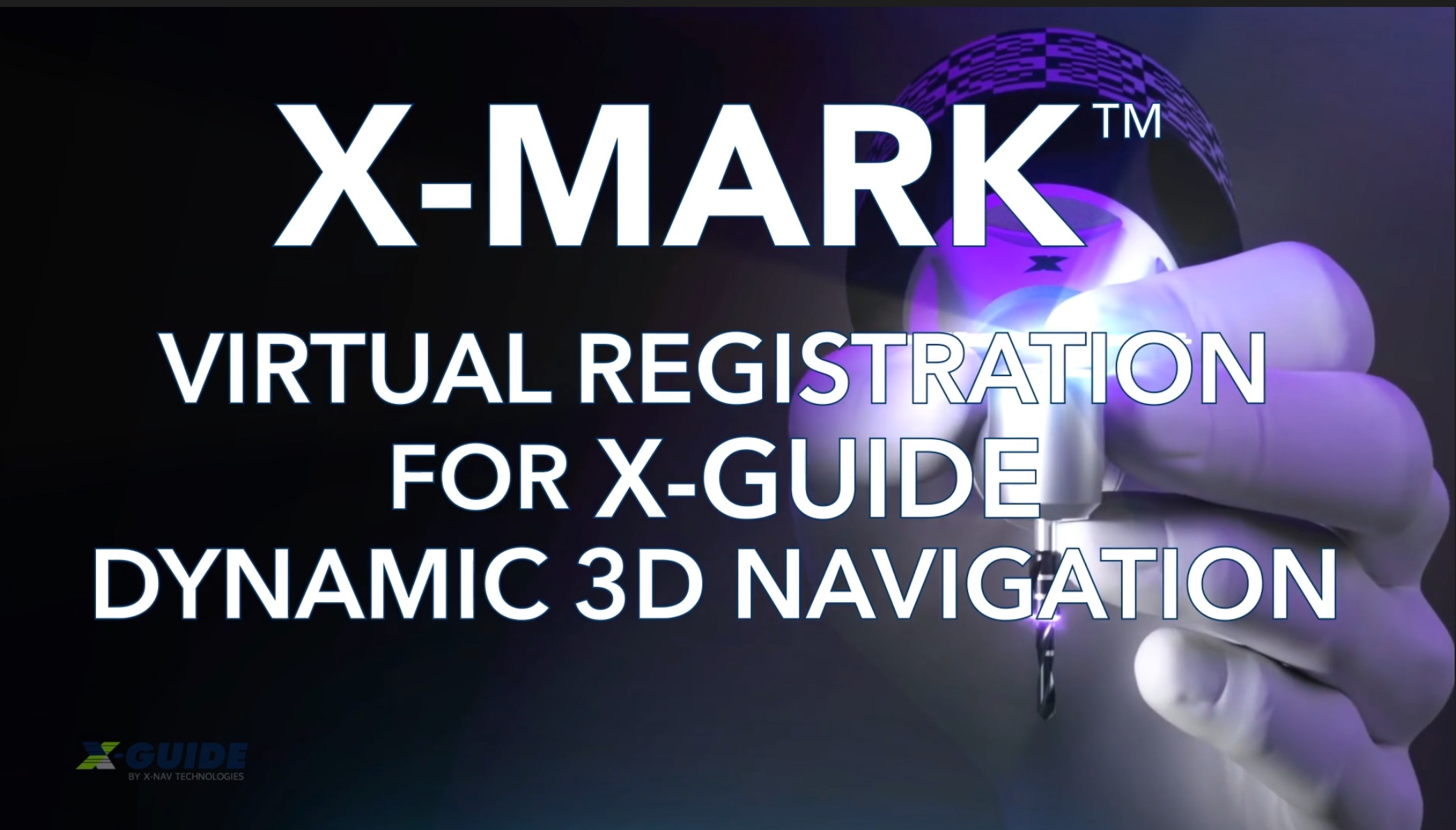 X-Nav Technologies, LLC announced that it has received 510(k) Clearance from the U.S. Food & Drug Administration for X-Mark TM, a new virtual patient registration technology that advances navigated dental implant surgery.
READ MORE
Prosthetics-Driven Treatment Workflows for Full-Arch Implant Reconstructions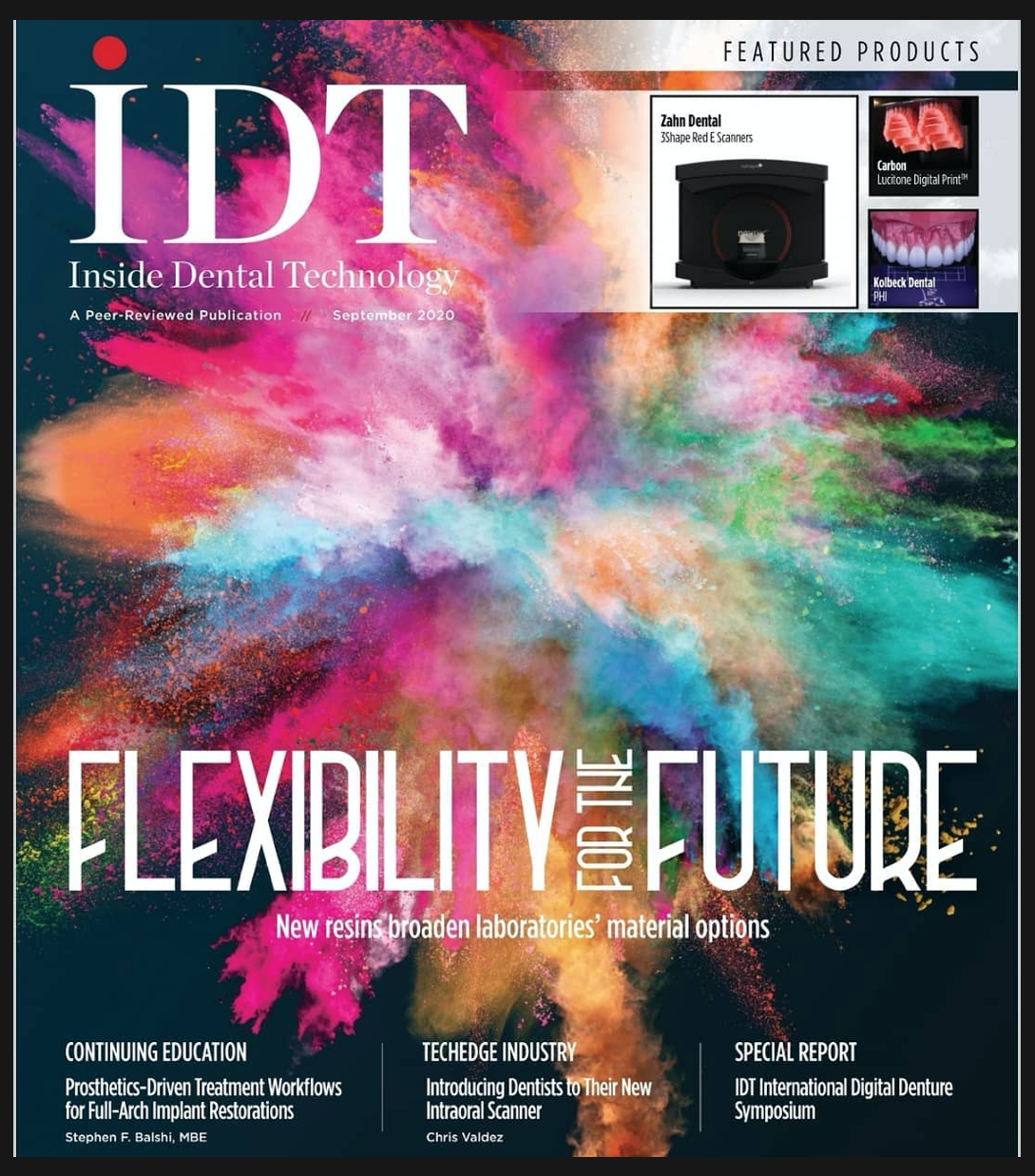 Inside Dental Technology
Stephen F. Balshi, MBE
This case series will review full-arch treatment with a single prosthetic device that is combined with guided implant placement. This can be done either with dynamic navigation or with static guidance.
Implant Placement Accuracy Using Dynamic Navigation 
The International Journal of Oral & Maxillofacial Implants
Michael S. Block, DMD/Robert W. Emery, DDS/Kathryn Lank/James Ryan, DDS, MS
Conclusion: Dynamic navigation can achieve accuracy of implant placement similar to static guides and is an improvement over freehand implant placement. In addition, there was a learning curve to achieve proficiency.
Click here to access the full article. *
If you're not a JOMI member and would like us to send you a copy of the article, please click here.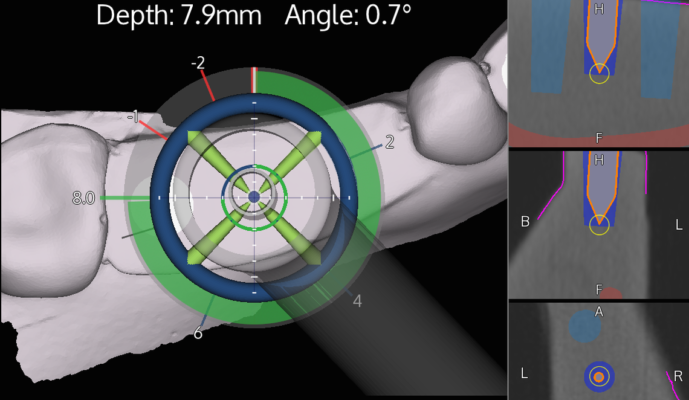 The X-Guide System Takes Center Stage As Navigation Booms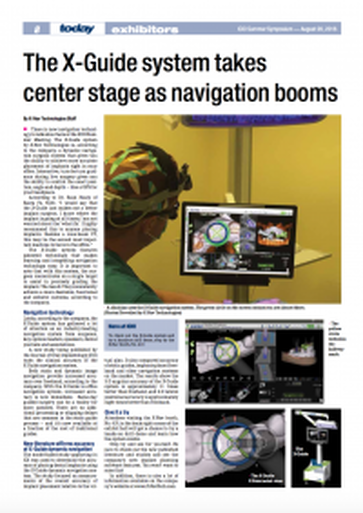 The X-Guide system has gathered a lot of attention as an industry-leading navigation system from surgeons, key opinion leaders, speakers, dental journals and associations.
Interactive, turn-by-turn guidance during live surgery gives you the ability to control the exact position, angle and depth — like a GPS for your handpiece.
The X-Guide system features patented technology that makes learning and integrating navigation technology easy. Read more.
Dynamic Image Navigation –
Implementation in the Esthetic Zone Utilizing a Multidisciplinary Approach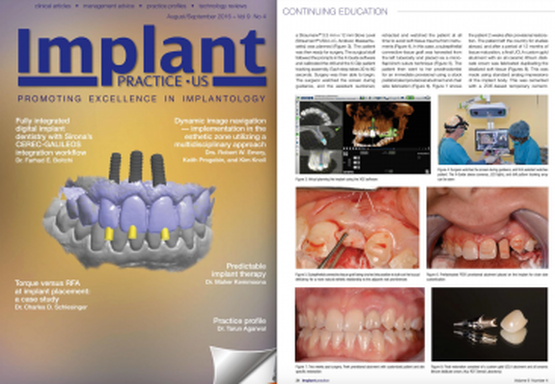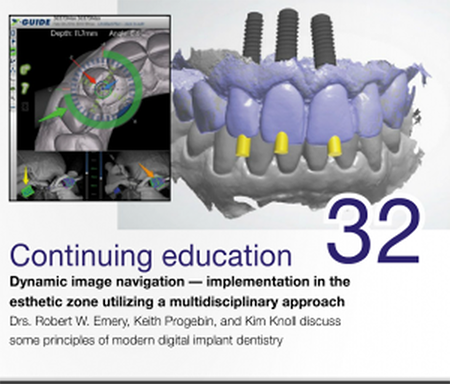 The Use of Dynamic navigation to prevent implant Complications...
Every Patient.
Every Time.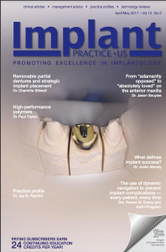 Audio Podcast

Dentists, Implants and Worms interview with
Dr. Robert Emery to Discuss Navigation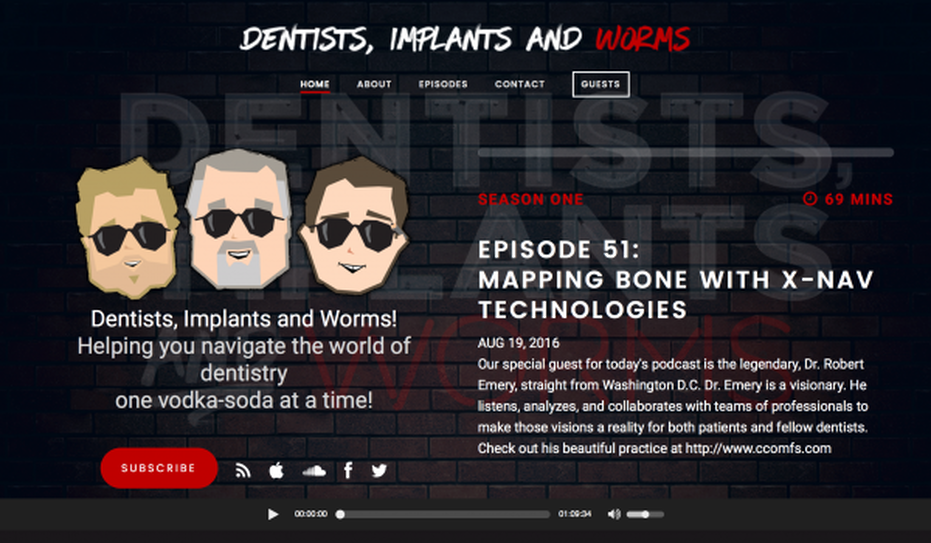 Dr. Justin Moody and the team at Dentists, Implants and Worms interviewed Dr. Robert Emery of Washington, D.C. to discuss how NAVIGATION technology is bursting into the implant world. Listen to this fun and educational audio podcast to hear why the X-Guide system stands out as the industry leader and learn about the future of Navigation in dentistry. CLICK HERE TO LISTEN NOW.
CE Article: Implementing Dynamic Navigation Implant Surgery In A Modern Dental Practice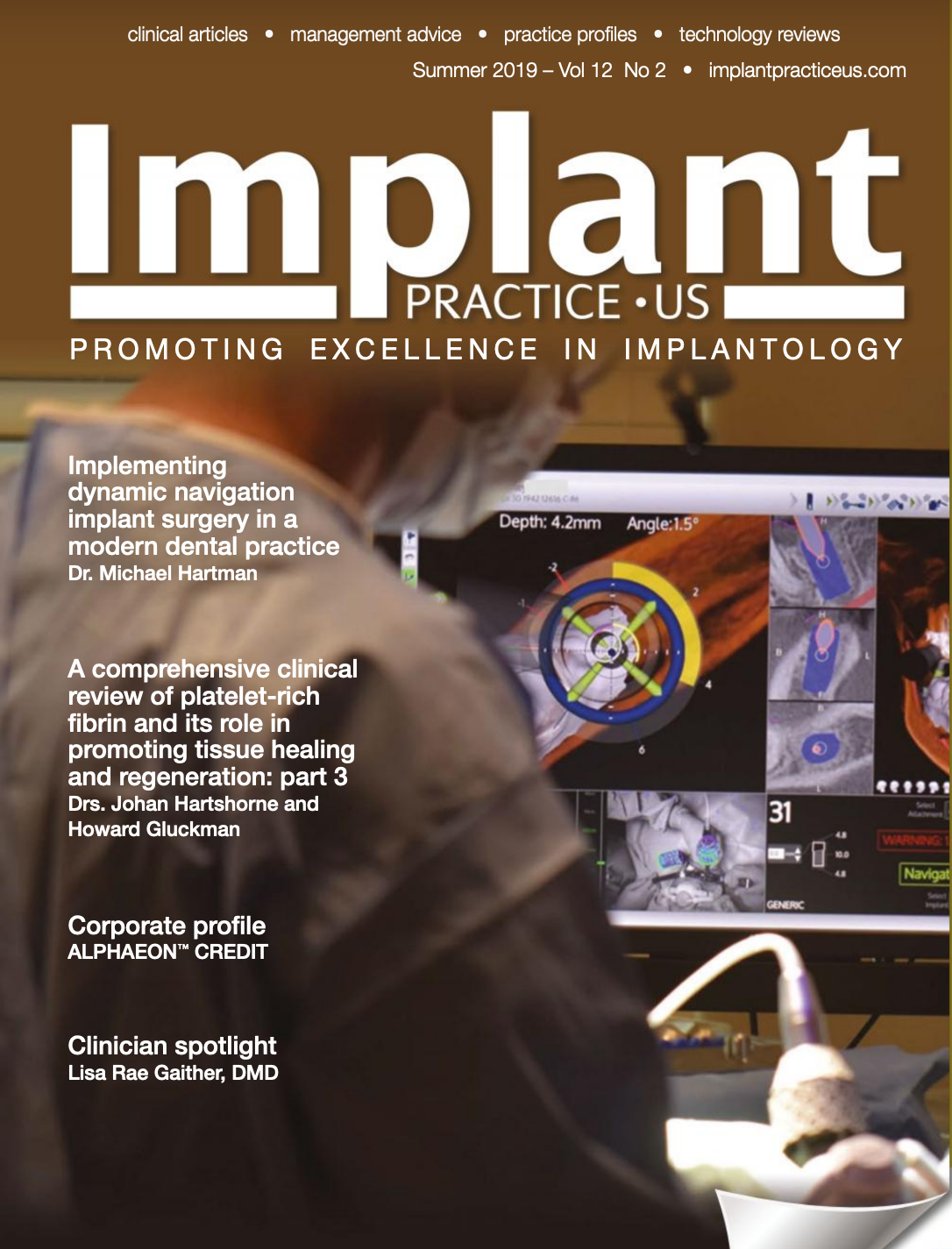 Dr. Michael Hartman discusses a technology that can have a positive effect on implant treatment outcomes.
The X-Guide System Takes Center Stage As Navigation Booms
Clinical & 

Techniques
TECH BRIEF:
Applying the X-Guide Dynamic 3D Navigation System In Your Practice
Dental Products Report Magazine 4/2016 edition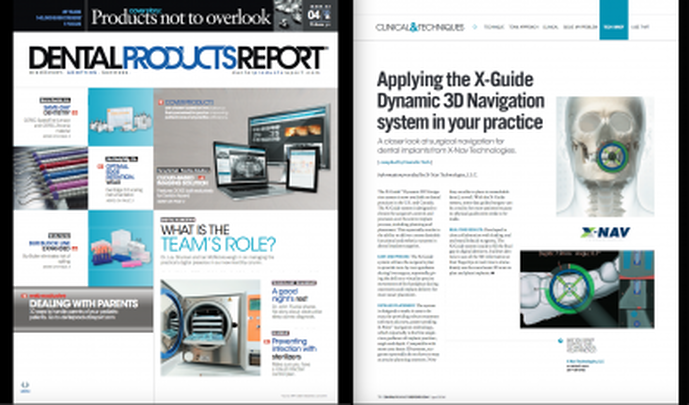 The X-Guide Dynamic 3D Navigation system is the featured Product Profile
in the April/ May 2016 – Vol 9 No 2 issue of Implant Practice US magazine.
Click here to read more.
Accuracy analysis of free-handed implant placement compared to a dynamic navigation system.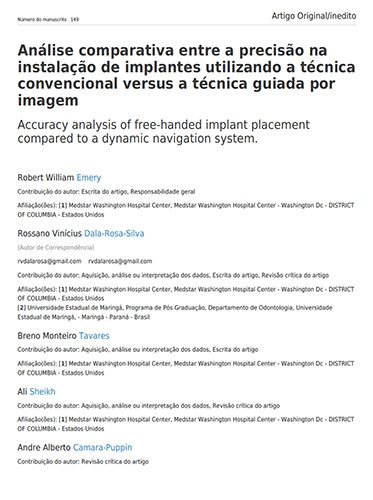 Análise comparativa entre a precisão na instalação de implantes utilizando a técnica convencional versus a técnica guiada por imagem
Dynamic Navigation for Dental Implant Surgery 
Minimally Invasive Extraction Site Management With Dehydrated Amnion/Chorion Membrane: Immediate Implant Placement With Dynamic Navigation
The X-Guide
TM
Dynamic 3D Navigation system expands the surgeon's control over the implant process during live surgery.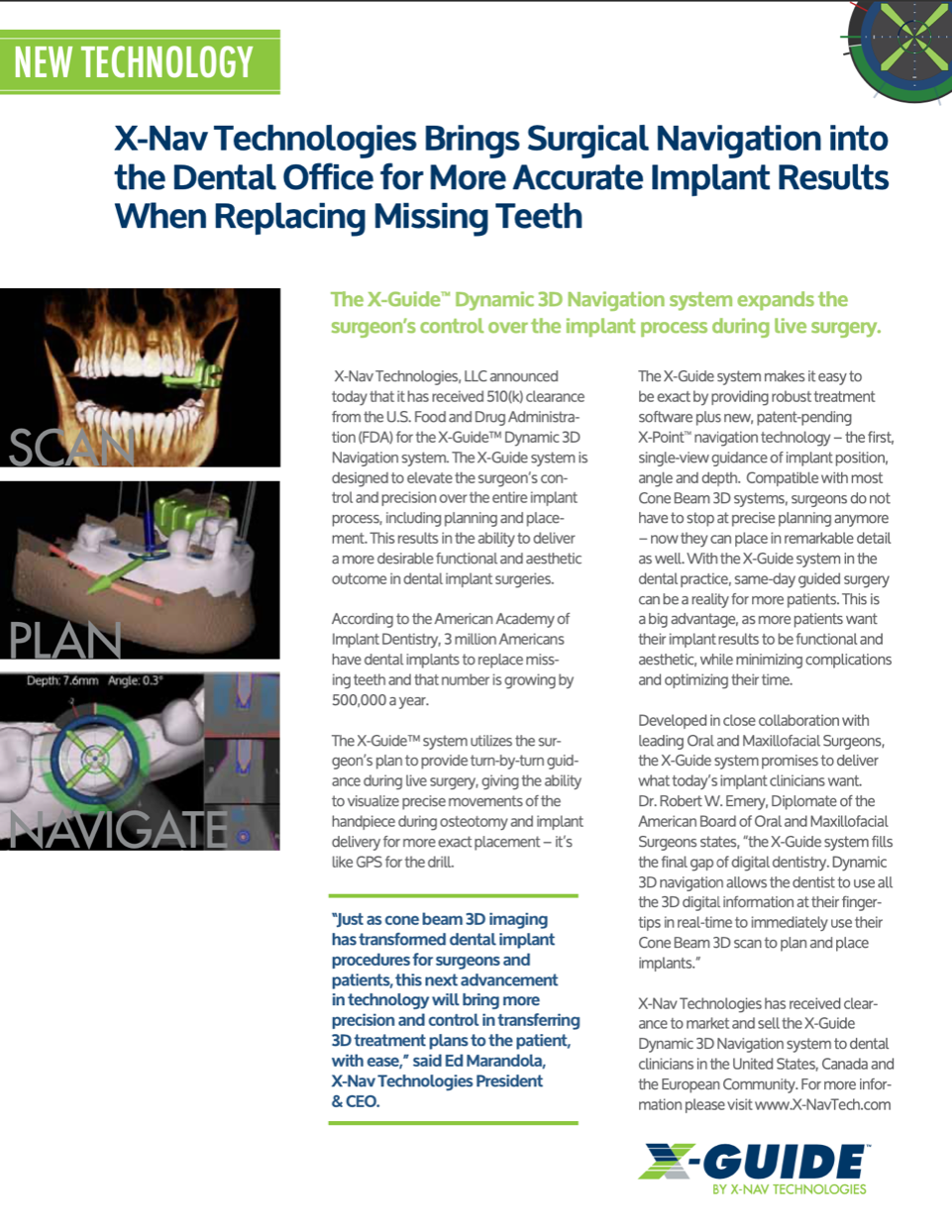 X-Nav Technologies, LLC announced today that it has received 510(k) clearance from the U.S. Food and Drug Administration (FDA) for the X-GuideTM Dynamic 3D Navigation system. The X-Guide system is designed to elevate the surgeon's control and precision over the entire implant process, including planning and placement. This results in the ability to deliver a more desirable functional and aesthetic outcome in dental implant surgeries.
Become an X-Nav Insider
Receive early notification of news, product updates and availability.