X-Nav Technologies is committed to educating the dentistry community and also providing you with the tools you need to optimize your implant planning and operation.
We are committed to giving our clients with information on the benefits of our technology as well as the most up-to-date training on how to utilize our systems to enhance office productivity and patient happiness.
As a result, our education and training programs are an essential component of every X-Guide client experience. Hence, our network of industry-leading trainers, X-Nav training specialists and on-demand web training programs will keep X-Guide customers up to date with our revolutionary technology.
Would you like to see live navigation operation using the industry leading X-Guide 3D dynamic navigation system? Take one of the X-Guide LIVE courses below.
See it. Believe it.

X-Guide LIVE:
One-Day Surgical Navigation Courses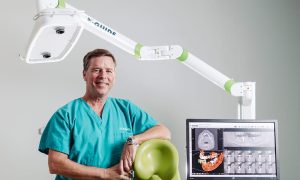 We are pleased to offer X-Guide LIVE Surgical Observation courses on the following dates with our Chief Medical Officer, Dr. Robert W. Emery in the Washington, D.C. office.
April 13, 2023
May 19, 2023
Jun 9, 2023
July 7, 2023
August 18, 2023
Must have completed a COVID-19 vaccination in order to attend in-person.

If you are not vaccinated, please inquire about our virtual programs.
*Limited attendance per course.
Not sure what course is right for you? Please submit the form below and we will be happy to discuss your interests and what courses are available for you
X-Guide LIVE Surgical Course Info