X-Nav Technologies is dedicated to educating the dental community and empowering you to enhance your implant planning and surgery.
We have a passion and commitment to ensure our customers have information on the benefits of our technology, as well as the most up-to-date training on how to use our systems to improve practice workflow and patient satisfaction.
That is why our Education & Training programs are a key part of every X-Guide customer experience. Our network of leading industry educators, X-Nav training specialists, and on-demand web training programs will keep X-Guide customers at the top of their game with our game-changing technology.
Would you like to see a LIVE navigated surgery using the industry-leading X-Guide Dynamic 3D Navigation system? Join us at one of the X-Guide LIVE courses below.
See it.  Believe it.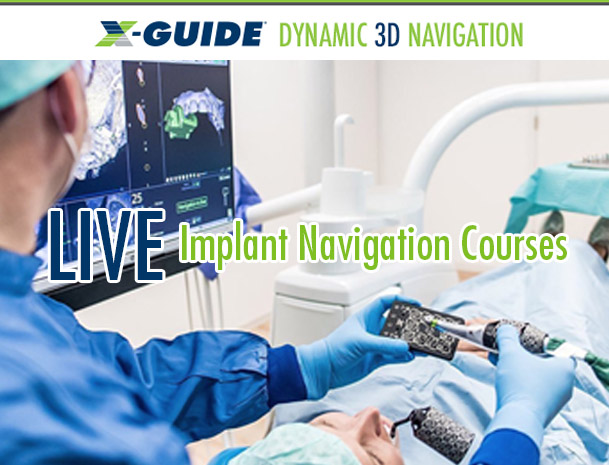 X-Guide LIVE:
One-Day Surgical Navigation Courses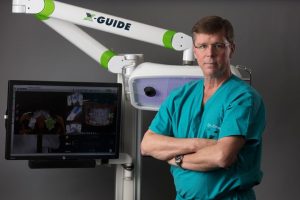 Dr. Robert W. Emery, BDS, DDS and the team at Capital Center for Oral & Maxillofacial Surgery
– Washington, D.C.
Join this unique surgical course to:
Experience first-hand the clinical workflow of the X-Guide Navigation system, including: X-Clip fabrication, treatment planning using a digital work flow, calibration and system check, and implant placement.
Review live dentate and edentulous navigation surgeries.
Each attendee will have the opportunity to ask questions and interact directly with the surgeons and staff members. Lecture material will be present between patients. The operating rooms are equipped with 3D video microscopes so an "intraoral" view is available at all times during surgical procedures.
Hands-on opportunity is available on models.
CLASS SCHEDULE
If you would like to join us at one of these events, please register via the links below or click here to contact Liz Qualtier and she will contact you with more details and to complete registration.