Live Surgical Events & Education
X-Nav Technologies offers live surgical courses that focus on teaching dentists how to use implant technology more effectively. These courses provide a unique opportunity for dentists to receive expert instruction from X-Nav personnel in a hands-on setting. Through these courses, you'll be able to plan your implants and operations with greater accuracy, all while learning from experienced professionals.
We provide information on the benefits of our technology as well as the most recent training to help increase office efficiency and patient satisfaction.
Additionally, our education and training programs are an essential component of every X-Guide client experience. Hence, our network of industry-leading trainers, X-Nav training specialists and on-demand web training programs will keep X-Guide customers up to date with our revolutionary technology.
Lastly, would you want to observe a live navigation operation utilizing the industry-leading X-Guide 3D dynamic navigation system? Take one of the X-Guide LIVE courses listed below.
See it. Believe it.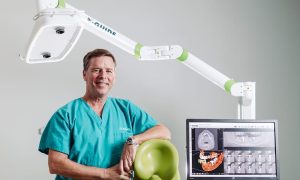 On the days listed below, our Chief Medical Officer, Dr. Robert W. Emery, will be teaching X-Guide Live Surgical Observation courses at the Washington, D.C. office.
September 29, 2023 at 8am
November 3, 2023 at 8am
*Limited attendance per course
X-Guide Live Surgical Course Info