Top 10 Things You Should
Know About Dynamic
Navigation
for Implants
Dynamic Navigation is a game-changer, particularly for restorative implant surgery and digital dentistry. But how useful is it exactly? As part of X-Nav Technologies' 10th Anniversary celebration, we at a variety of top 10 interesting things you might not know about X-Guide® surgical navigation. Scroll through to learn more about these top 10 facts about Dynamic 3D Navigation for Dental Implants.
1

:

IT'S MORE ACCURATE THAN FREEHAND DENTAL IMPLANT SURGERY.
In a study published in the Journal of Oral Implantology of experienced oral surgeons, X-Guide® dynamic 3D navigation was shown to be 11 times more accurate than freehand surgery. Therefore, a two-year clinical study with three experienced oral surgeons navigating 714 implants concluded that "Implant placement is more accurate using dynamic navigation."
To read more about Clinical and Journal articles, click here.

2: X-GUIDE WORKS WITH ALL CBCT FIELDS-OF-VIEW.
X-Guide navigated surgery offers a simple workflow that be done with all CBCT fields of view (FOV). Plan exactly where you want your implant to be and place it more precisely using your CBCT + X-Guide. X-Mark is the only virtual patient registration cleared by the FDA for dental navigation.
3: X-Guide navigation makes same-day implants available for more patients.
Scan, Plan, Navigate – Now.
Patients want functional and aesthetic implant results, while minimizing complications and optimizing their time.

With X-Guide navigation, make same-day implants available for more of your patients.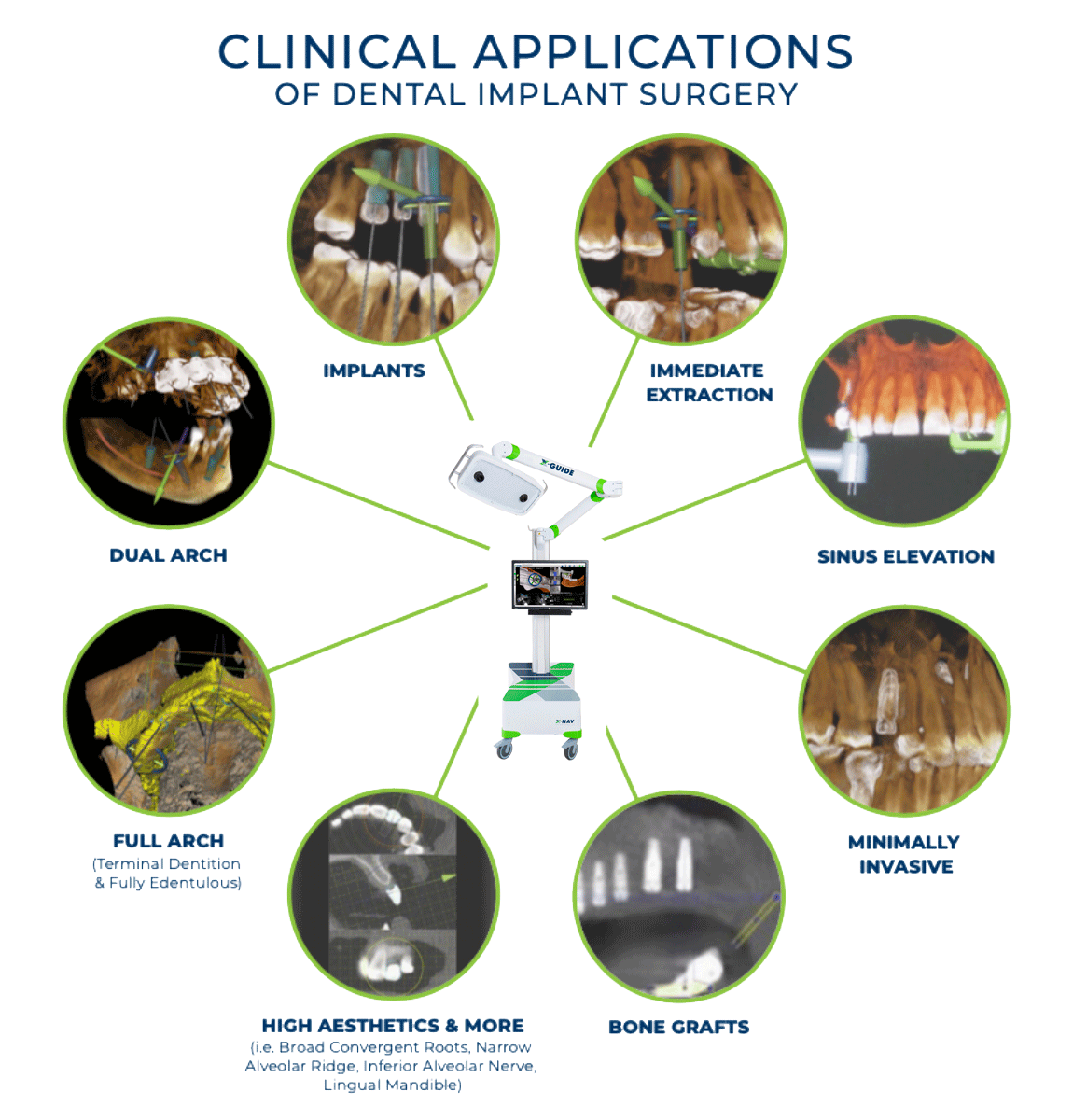 4:

You can navigate

more cases,

everything from single implants and 

IMMEDIATE to full arch reconstruction.
X-Guide dynamic 3d navigation can be beneficial in many implant applications in your practice, empowering you to deliver more immediate, more accurate, and less invasive dental implant options.
 
Learn more about X-Guide navigated clinical applications and review case studies, click here.
5:

X-Guide dynamic 3d surgical navigation has become an essential part of modern digital dentistry.
Transfer your digital treatment plan to the patient with ease and precision. Plan in remarkable detail, then continue to control the exact placement of implant position, angle and depth with X-Guide dynamic 3D navigation during live surgery. It's like GPS for your drill.
6: X-POINT TARGET MAKES NAVIGATION EASY.
Unique to the X-Guide® system, the patented X-Point Target makes it easy to look at 1 dynamic focus point during surgery to precisely guide the position, angle and depth of the surgical implant.
The X-Point Target is the only live, 360-degree single-view of drill position + ANATOMY during surgery.

X-Guide allows you to confidently transfer your 3D treatment plan to the patient, with ease.
7: Patients appreciate the visual treatment map.
Today's patients want to be informed. They want to know exactly what their procedure will involve and why it will be successful – and X-Guide navigation is sure to impress!  
Learn more about X-Guide for patients, click here.
8: 

NAVIGATED SURGERY IS GROWING!
Navigated surgical techniques have been successful in medical neurosurgery for many years. The introduction of X-Guide dynamic navigation for the DENTAL office was met with much excitement!
Over 250,000 dental implants have been navigated with the X-Guide dynamic 3D navigation system! X-Guide was quickly embraced by the global dental community and is currently in:
47 countries

46 universities

and available in over 26 languages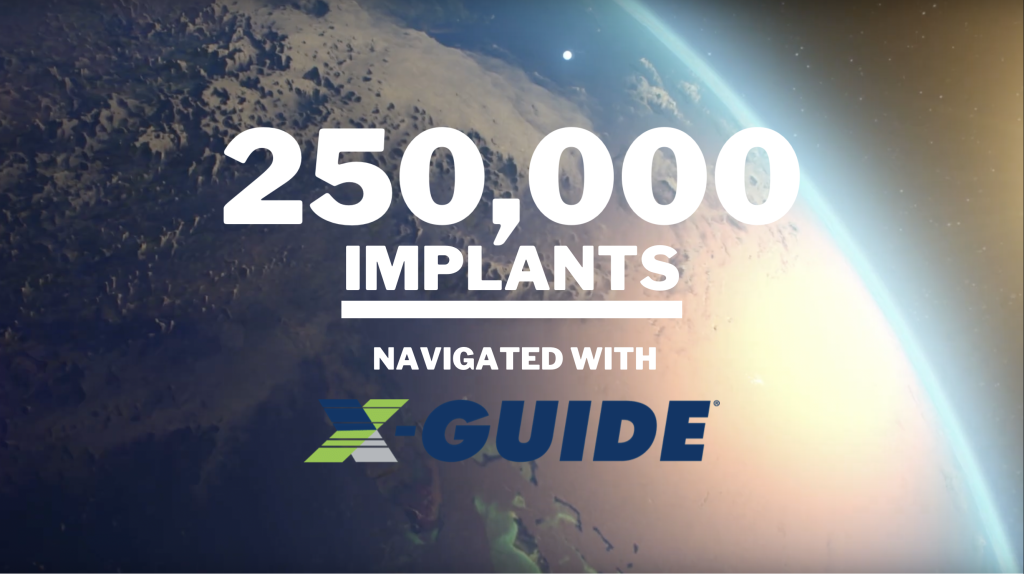 9: 

It's just a fraction of the cost of traditional guides!
Without the additional processing fees and delays sometimes associated with static guides, you may benefit from computer aided surgeries' greater precision.
Accurate. Immediate. Affordable.
While both static and dynamic image navigation are highly accurate, dynamic navigation systems have the following advantages. Meanwhile the patient can be scanned, planned, and undergo surgery on the same day. Thus, plans can be changed during surgery if clinical circumstances need it. Subsequently the entire field can be visualized at all times. Accuracy can be verified at all times.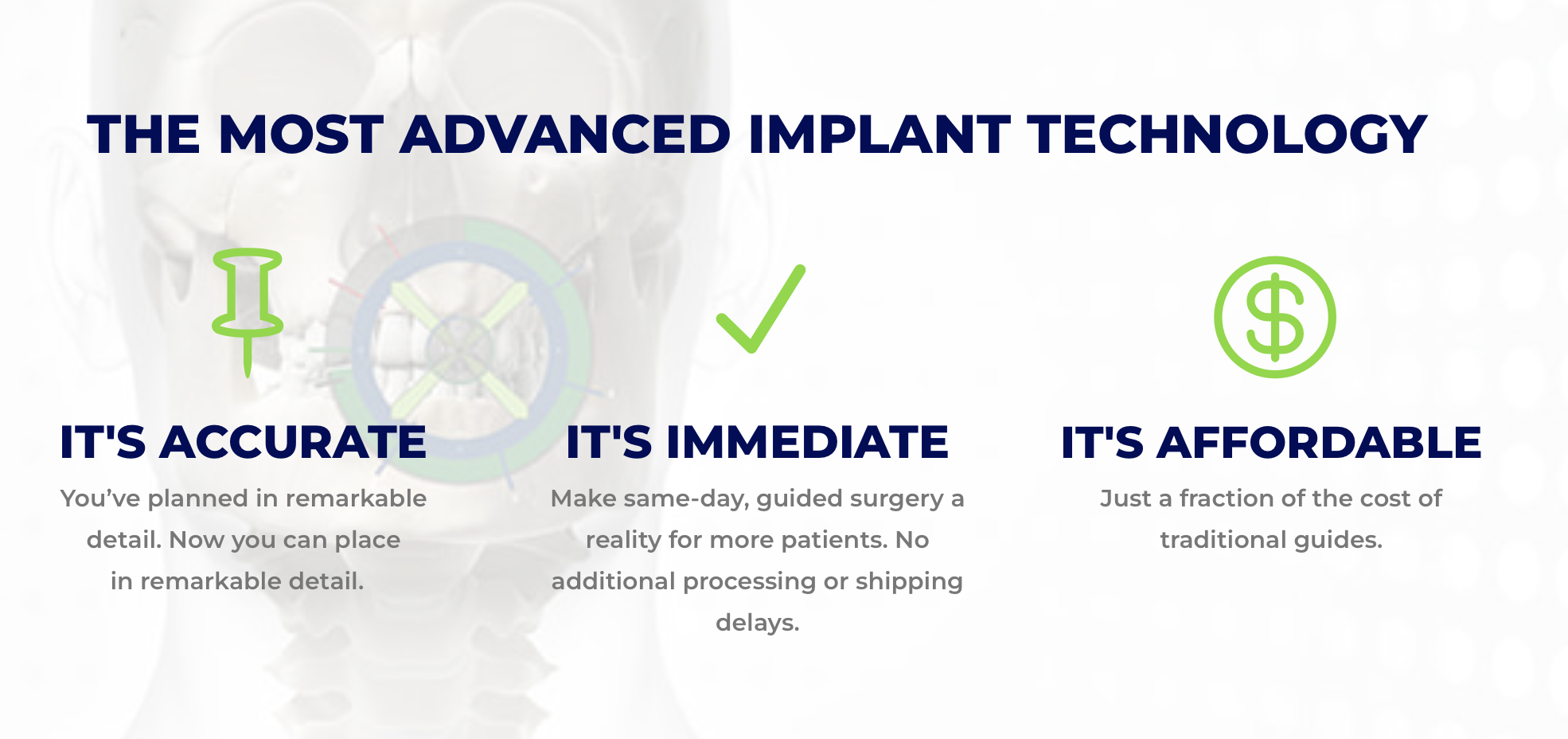 10:

IT ONLY GETS BETTER FROM HERE!
As digital dentistry technologies continue to advance and integrate, comprehensive surgical and restorative dentistry becomes more seamless and achievable.
Undoubtedly, X-Guide navigation is at the center of these advances, as many elements of successful restorative techniques depend upon highly accurate surgical implant procedures. With more predictability in the placement of dental implants, you will have better access to advanced restorative planning, ultimately allowing you to deliver immediate, comprehensive, and accurate results to your patients' final smiles.
Learn more about the X-Guide® Dynamic 3D Navigation and discover the potential it holds for you and your practice, click here.
---
To request more information or a demo, fill out the form below: